DVSA introduces new measures to raise standard of MoT testing
The Driver and Vehicle Standards Agency (DVSA) is implementing a new qualification and training process to help reduce errors made in MoTs.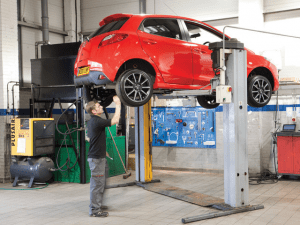 Around 27 million car MOTs are carried out in Great Britain each year, with the DVSA saying that the vast majority are done to the right standard, but its data shows that some errors are made.
The new qualification and training process – which covers an industry-recognised qualification for new MOT testers and managers and annual training and assessments for the existing 58,000 MOT testers – will tackle this.
DVSA chief executive, Gareth Llewellyn said: "Checking your vehicle is safe to drive is one of our top priorities. Ensuring the quality of MOT testing will ensure customers can be confident their vehicle will be tested in a highly professional manner.
"The new qualification as well as the annual training and assessment will continue to build on the professional reputation of the MOT industry. It will help DVSA to regularly assess the standard of the industry and quickly address any problems that arise.
"By achieving this new qualification, garages or testers will enable their businesses to flourish, but where standards are not being met, DVSA has an obligation to protect the public by withdrawing authority to carry out MOT testing."