GreenRoad to expand reach for driver behaviour app with new partner programme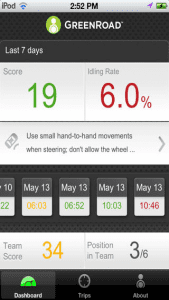 GreenRoad is running a new partner programme with telecoms suppliers in the UK for its driver behaviour app.
The GreenRoad Mobile app has been developed to act as a "coach in the cab", warning drivers in real time of risky behaviours.
The technology, which doesn't require hard-wired installation, monitors 150 vehicle movements, detecting risky manoeuvres such as harsh braking, sudden acceleration, sharp cornering and swerving.
All drivers need to do is to download and run the GreenRoad app on their smartphone or tablet then place the mobile device in the cockpit of the vehicle.
As well as giving feedback in cab, GreenRoad analyses data and compiles succinct, easy to read reports on driving performance for fleet managers.
The partner programme will enable GreenRoad to extend its reach across the UK by developing an alternative route to market
Chris Horbowyj, GreenRoad's UK director of sales, said: "It is an exciting initiative and one which we are confident will quickly gain momentum.
"GreenRoad Mobile works on smartphones and tablets so it makes sense to offer it through telecoms resellers because it will be an added value proposition for them.
"By expanding their portfolios to include GreenRoad telecoms resellers will be able to give their customers the opportunity to join in this revolution in telematics – a truly portable driver behaviour solution that delivers long-term change."