Road Test: Ford Mondeo Titanium Edition Hybrid Estate
Martyn Collins wonders if estate practicality and a minor facelift is enough to save the Mondeo?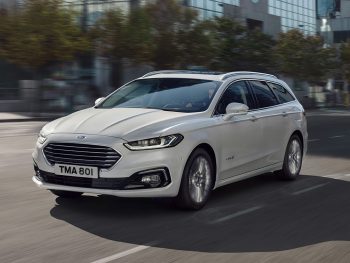 SECTOR Upper-Medium PRICE £29,450 FUEL 47.9mpg CO2 108g/km
The Ford Mondeo received a 'blink and you'll miss it' facelift this year, but because of the decline of the upper-medium sector of the market, you may not have noticed it.
From the exterior, the changes are hard to spot immediately, but all Mondeo models now get a new front bumper, different and specific grille designs. Move to the back, and there's new lights with a chrome strip between them. Inside, Ford claims it has upped the quality – but this Mondeo didn't feel much different to previous Mondeos we've driven.
Of more significance to fleets are the addition of estate versions of the hybrid HEV model. Mechanically identical to the hatch, this features a 186hp, 2.0-litre Atkinson-cycle petrol engine, with an added electric motor that's powered by a 1.4kWh lithium-ion battery.
The hybrid has always been a smooth drive, but that hasn't stopped Ford making further improvements to the hybrid system. It works best at low speeds, where the shift between petrol and electric power is least noticeable. The package comes apart slightly at speed where the CVT gearbox allows the engine to race noisily, which is hard to modulate. Yet, despite the engine seeming to over-rev, speed only builds slowly.
Also, that battery hinders practicality, with boot space dropping from 525 to 403 litres. This is disappointing, as on top of feeling a bit dated, the Mondeo Hybrid Estate's steering and handling are precise and engaging.
Our Titanium Edition model was well-equipped too, with standard kit including an eight-inch touchscreen with sat-nav, plus Apple CarPlay and Android Auto connectivity, leather trim, electric front seats, traffic sign recognition and lane keep assist.
A 27% BiK rate and low 113g/km emissions make this Mondeo attractive to fleet buyers, but the drivability issues would make us consider more modern alternatives.
FW RATING: 3/5