Free Autotrip mileage tracking app to enable hassle-free expense claims
Autotrip has launched a free mobile app to help drivers keep track of business mileage and streamline expense claims.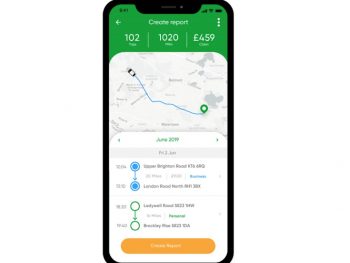 The new app (click here for demo) allows drivers to automatically record every trip they make using their phone's GPS and then classify journeys as business or personal with a single swipe. They can then submit the mileage claim, including all of their business trips for the month, to their employer.
The new solution has also been designed for easy business use, with managers able to quickly review every trip on a map, store all claims online and set their own custom mileage rates if needed.  Mileage claims are said to be HMRC-compliant, use up-to-date mileage rates and are stored for the required six years and beyond. And Autotrip also calculates the VAT amount businesses can reclaim on their fuel expenses.
James Finlayson, managing director at Autotrip, commented: "We're thrilled to make Autotrip available on iOS and Android. Our customers have long asked for this, and we're excited to bring to market a reliable mileage tracking app that's suitable for any business size, regardless of whether you're a self-employed individual or a large fleet with hundreds of drivers."
The app comes with an unlimited trip allowance, enabling employees to claim everything they're entitled to, with no limits or hidden fees.
Autotrip says it can also offer other USPs, including a London-based customer service team to provide real-time support and a team plan for larger fleets, which gives access to in depth analytics and a centralised account to manage the company's business mileage with ease.
Autotrip also offers a GPS mileage tracking device that can be plugged into any vehicle as an alternative to the smartphone's GPS. The device can be trialled for 14 days for free and added to the driver account for £5.99 +VAT per month.