New cloud-based virtual fleet manager launches for SMEs
A new low cost and cloud-based virtual fleet manager designed specifically for small businesses has been launched by Trakm8.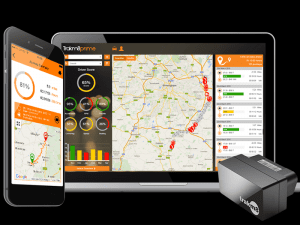 The new tool, named Trakm8prime, has been designed to help businesses cut insurance premiums, slash fuel costs and reduce the aggravation for P11D administration.
The virtual fleet manager is powered by Trakm8's T10 Micro device, which is self-installed by the customer in around 10 minutes, reducing installation time and the costs that surround it.
Drivers are able to view their personal data via the Prime app which is available on iOS and Android. Fleet managers can view the overall activity of their fleet vehicles through the Prime Portal or app, allowing round-the-clock visibility and create useful reports. This includes the Vehicle Timesheet Report, which is available to download or view onscreen and displays the activity of all active vehicles along with start times, time spent driving or idling, enabling businesses to monitor driver behaviour styles to help reduce fuel costs, insurance premiums, and even wear and tear and damage through accidents.
In addition to driver behaviour monitoring, Trakm8prime provides vehicle health information, such as battery health data and diagnostic fault codes to enable transport operators to pre-empt breakdowns and help prevent or reduce downtime.
It can also be used to record private mileage, with the data collected automatically exported from the Prime portal straight into a .csv file or .pdf format.  This enables fleet managers to create accurate historical records for the completion of P11D mileage forms, avoiding HMRC penalties.
Trakm8prime requires no long term contracts and offers a number of flexible pricing plans, starting from £12.99 per vehicle, per month.
John Watkins, executive chairman of Trakm8, said: "Many telematics solutions are developed solely for large businesses with hundreds of vehicles. Our expertise in providing data services to corporate fleets has led to us developing a tool in which smaller businesses can also harness the benefits of telematics and make substantial savings in the process. Whether you own a building company, plumbing business, a fleet of taxis, or a group of delivery vehicles, Trakm8prime's easy installation and affordable price is a great way to save money."