Michelin launches first winter-certified summer tyre
Michelin has developed the first tyre which offers the performance of summer tyres but is also certified for winter use, said to avoid the need for two sets.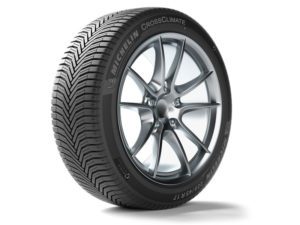 The CrossClimate range has achieved an A rating for wet braking and C rating for fuel efficiency, according to European tyre labelling legislation, matching or close to the figures expected from Michelin's summer tyres.
Yet the new tyre also carries the Three Peak Mountain Snow Flake certification, which means it can be used during the winter like a cold-weather tyre. All-season and cold-weather tyres are typically less energy efficient and offer lower wet grip performance, during summer use, than a summer tyre.
Andy Fern, Michelin's head of fleet, said the launch is especially important in the UK where some fleets have begun using cold-weather tyres all year round: 'This new tyre addresses an increasingly urgent need among business motorists to feel safer when faced with unstable, unpredictable weather conditions, including occasional snowfall,' he explained.
'The Michelin CrossClimate delivers the benefits of a summer tyre in terms of dry or wet braking, energy efficiency and total mileage performance as well as the advantages of a winter tyre with regards to traction and braking on occasionally snow-covered roads. It's ideally suited to the UK and Irish markets, where fleets can now drive safely the entire year without needing to change tyres.'
The CrossClimate range is available from May in a range of 23 sizes to fit wheel sizes from 15 to 17 inches, claimed to cater for 70% of the European market. Further sizes will arrive in 2016.