Half of UK's top 10 best-selling cars don't offer standard AEB fitment
Carmakers are being urged to prioritise fitting Autonomous Emergency Braking (AEB) technology to their best-selling models to make the biggest contribution to reducing the number of crashes on our roads.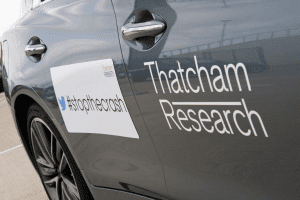 The call comes from Thatcham Research as it highlights that eight of the UK's top ten best-selling cars now offer five-star crash protection but standard fitment of Autonomous Emergency Braking (AEB) is still only available on half of them.
The AEB analysis by Thatcham – which is available online for all carmakers and models in the UK – shows that the Mercedes C-Class has AEB as standard across its entire range, whilst the Volkswagen Golf and the Nissan Qashqai also have commendable levels of standard fitment (83% and 71% respectively) and optional availability on most other trim levels.
The safety expert added that AEB has been shown to reduce low-speed crashes by up to 40% by automatically braking to avoid a collision with another car or a pedestrian, if the driver hasn't responded.
Chief executive, Peter Shaw commented: "It is right to acknowledge the achievements of carmakers in providing us with safe cars that offer excellent protection in the event of a crash, with eight of the top 10 best-sellers having Euro NCAP 5 star ratings. However, preventing the crash from happening in the first place now must be the focus and that starts with having AEB as standard. Prioritising fitment to the best-sellers will make the biggest contribution to reducing the number of crashes on our roads, as well as encouraging other car makers to follow suit."
Shaw added: "Vehicle manufacturers could choose to publicly commit to making AEB standard by 2022 on all new cars sold in the UK. Twenty of the best-known car brands have already done exactly that in the United States and we'd welcome the same commitment in the UK."