Your automotive P.A.?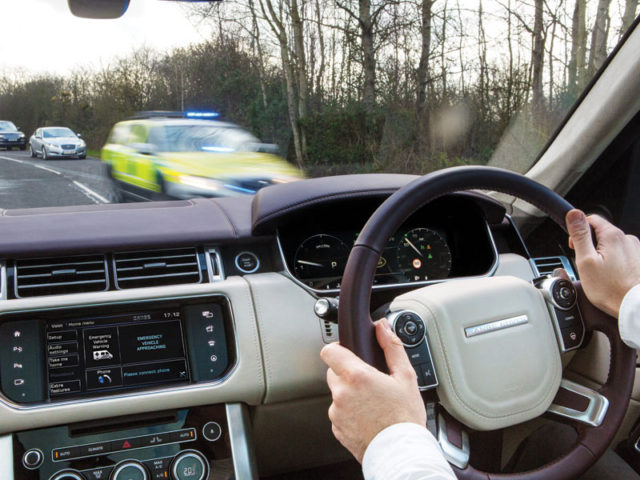 Combining familiar and near-future technology, Jaguar Land Rover is readying a range of features which will make business motoring easier, safer and more fuel-efficient, explains Alex Grant.
Seeing around corners
Autonomous vehicles depend on being able to communicate with each other and the road network, but that data is just as valuable for human drivers. Jaguar Land Rover is about to begin a three-year trial of this technology in the Midlands, the aim is to provide warnings further in advance and avoid last-minute reactions, though traffic flow data can be fed back to Highways England too.
For drivers, this will mean there's no reliance on overhead gantries to receive live information. Data including obstructions, such as accidents and breakdowns on country roads, and approaching emergency services vehicles will be shown on the dashboard, long before they can be seen or heard. Pre-launch testing will examine using four different communication technologies, to avoid reliance on mobile networks, and will also look at how traffic light data can be relayed to keep vehicles moving.
Collaborative driving
Co-Operative Adaptive Cruise Control is an evolution of a familiar system, but uses entirely new technology. Via a short-range wireless connection, it can enable 'platoons' of vehicles to mimic each other simultaneously without relying on the slower reactive responses of forward-facing sensors.
This will mean cars can travel closer together, safely enabling them to slipstream each other to save fuel as well as increasing the capacity of the roads during peak periods. It also provides a platform for detailed information to be transmitted – Land Rover is developing a system which will allow cars to share grip, axle articulation and driving modes while off-road, as well as notifying following vehicles about obstructions on the route.
Judging tight spaces
Safety and assistance systems are making forward-facing radar, LIDAR and camera systems increasingly common on the latest cars. Jaguar Land Rover is looking at additional ways to use this commonplace technology to take the stress out of tricky driving conditions.
In many cases, it's just additional software. Stereo cameras can generate a three-dimensional view of what's ahead, which doesn't rely on human judgement. This underpins systems which can recognise cones and barriers and guide cars through roadworks, stop the driver pulling away if there's an obstacle in front, and warn if there's a low bridge, branch or car park ahead – particularly useful when there's a roof box fitted. They're situations which tend not to cause injuries, but which lead to expensive repairs.
Combining sensor data will also lead to more human-like responses. Though primarily designed for off-road use, Land Rover is enabling its test vehicles to pre-emptively adjust their speed and traction control systems based on the surfaces ahead. It's technology which can be applied on-road driving, too.
Never forget essential items
Jaguar Land Rover will begin introducing the Tile app in its vehicles next year. It's a car-integrated version of the smartphone-based tracking system, which can locate Bluetooth connected tags attached to bags, keys, wallets and other essentials. If they're not all in the car, the driver will get a notification that they've forgotten something, and there is the option to trigger an alert on the tag, making it easier to find.
For more exclusive feature content, click here.