Windsor Community First Responders put Dacia Duster 4×4 to use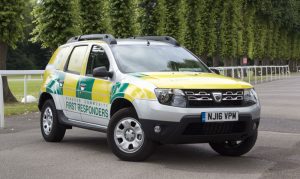 Dacia has loaned a Duster 4×4 to the Windsor Community First Responders for use in their work assisting the ambulance service.
The specially liveried Duster 4×4 will be used as a Dynamic Response Vehicle (DRV) to assist people who have suffered medical emergencies that include unconsciousness, chest pain, stroke or breathing difficulties. The vehicle will be 'on call' 24 hours a day, 365 days a year, with its 4×4 capabilities ensuring the crew can also reach patients who are in hard-to-access and remote rural areas.
The Duster will accommodate a crew of up to three volunteers as well as the essential equipment that is needed for callouts, which includes a defibrillator, oxygen, masks, bandages, Entonox and other medical supplies.
Chris Wright, who has been volunteering with the nearby Chalfont Community First Responders for over a year and who organised the partnership with Dacia, said: "Community First Responders are funded entirely by donations and many volunteers have to use their own vehicles, so to have the Duster as a centrally-based Dynamic Response Vehicle (DRV) is a great help. Dacia was very receptive when I approached them and the Duster is already proving to be an extremely useful and capable vehicle that all of our volunteers enjoy driving."