Use it up, wear it out? Not so fast…
Changing our tyres before we absolutely need to might be a false – and expensive – economy for fleets. Craig Thomas discovers how Michelin is attempting to get us all to think differently about our rubber.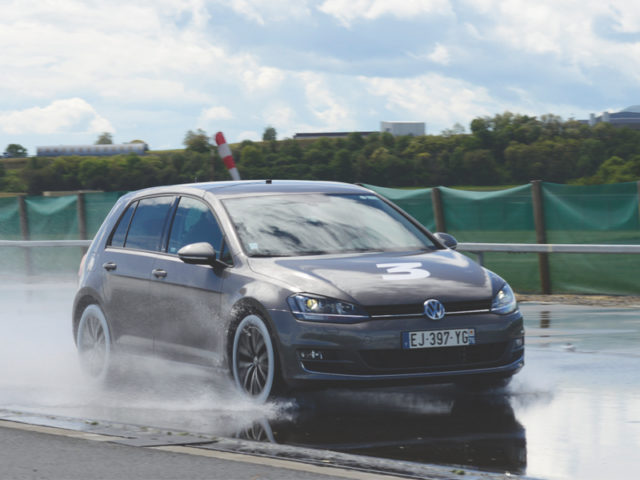 The humble tyre is a hoop of rubber that might, on the (patterned) surface of it, seem a simple – albeit highly important – piece of automotive technology.
However, tyres are one of the most vital components of any vehicle. They offer those all-important postcard-sized contact patches with the road surface, support the weight of the car, help absorb any discomfort from the road surface, and enable the driver to steer, accelerate and brake.
Tyre safety is therefore hugely important, with clear regulations governing tyre wear: the minimum legal tread depth of 1.6mm, beyond which they have to be replaced, is a Europe-wide and practically global standard.
But there's a received wisdom – promoted by numerous tyre manufacturers and safety bodies – that suggests that tyres should be changed at 2mm or even 3mm.
Drivers are heeding this advice: a 2014 study published in Tire Science and Technology pointed to an average 3.1mm tread depth of tyres in European landfill sites.
Michelin, however, is challenging this industry shibboleth, asserting that tyres with tread of 1.6mm can be perfectly safe. Indeed, Michelin says that tread depth isn't the most important indicator in tyre safety: it's the performance of the tyre that matters most, with some worn tyres proving to be safer than some brand new tyres.
Tyre performance is based on a number of factors, such as casing design, the quality of the materials and type of rubber compound used, the tread design, and the shape of grooves and sipes. Indeed, the quality of the tyre – which is often reflected in price – is the most important factor in how a tyre performs, when new and throughout its functional life, all the way down to 1.6mm.
Terry Gettys, executive vice-president of research and development for Michelin explained what the company has discovered, after testing 24 different tyres currently on sale.
"Tyres wear out and the tyre performance changes as they wear out – for example, wet braking performance will worsen over time. All tyres are not equal when they are new.
"What our tests have shown is that tyre performance is even less equal when worn. In fact, the differences are very much accentuated once a tyre is in the latter stages of its life. Quite surprisingly, we have discovered that some tyres worn to the legal limit have a wet braking distance virtually the same as some new tyres."
Michelin has conducted a number of tests to evaluate the relative merits of different tyres – tests that it reproduced with Fleet World in attendance (and behind the wheel) to reveal some surprising results.Worn, but not worn out
First off was a standard dry braking test. This is the braking that most drivers undertake, most of the time (London, for example, has dry roads for 71% of days per year) and is significant because the safety of undamaged tyres actually improves as they become worn. That might seem counter-intuitive, but if you consider the tyres that racing cars use – slick tyres with no tread patterns cut into them – it makes absolute sense. A worn tyre will therefore stop a vehicle quicker in the dry than the same tyre when new.
This was evident in our testing, which found that worn tyres reduced braking distance from 60kph (37.2mph) to a dead stop by about 2.3m – which is half the length of a car – compared to the same tyre when brand new.
The next test was to determine wet lateral grip, which replicates cornering in the wet. The test does have a greater element of subjectivity than straight-line testing, but it did show variations in the speed at which the vehicle breaks traction when fitted, with new budget tyres losing out to worn, mid-priced alternatives.
The final tests involved wet braking. These were perhaps the most instructive in showing the disparity in the performance of different tyres, both new and worn. What we discovered was that some worn premium tyres have shorter braking distances in the wet than new budget tyres – to the extent of differences of between five and 10 metres (one to two car lengths), which is significant in real-world driving conditions.
So on safety alone, it's clear to see that some worn tyres, depending on their performance capabilities, can be perfectly safe – and even safer than cheap new tyres.
But it's not just about safety: worn tyres are also more fuel efficient and better for the environment. One tank of fuel in five is used to overcome the rolling resistance of a vehicle's tyres and, as the rolling resistance of a tyre at the legal tread limit is 80% of that tyre in a new state, keeping a tyre on a vehicle until the legal tread wear limit means that its most fuel efficient state is increased, reducing fuel bills.
And as for all those tyres with 3mm tread in landfill, estimates suggest that 400m tyres can be saved every year by waiting until they reach 1.6mm. Indeed, research from Ernst & Young shows that EU drivers are paying out €6.9bn (£6bn) as a consequence of more frequent tyre purchases and increased fuel consumption. That works out at an unnecessary £745m bill for British drivers alone.
As Gettys puts it: "If tyres are changed early, before the legal limit, this reduces the useful life of the product, and consumers would make unnecessary purchases. This would also have an adverse impact on the environment. So, early tyre removal has a huge environmental impact and also represents a significant and unjustified increase in costs for consumers."
Rewriting the rules
So what is Michelin's endgame, on the back of its research? Cyrille Roget, Michelin's group technical communication director, told us: "What we want is for, first, the industry to realise that it's important to measure worn tyres, not only new tyres. Then what we would like is to have a threshold where you could keep the grading for the indication of the performance when the tyres are new, and then set a minimum performance for when the tyres are worn. In that case, you remove all the bad tyres. That's the easiest way to do it. It's not a ranking, or a grading: it's more a minimum performance that all tyres sold have to conform to, in order to be on the market."
We asked Bridgestone, Continental and Goodyear Dunlop for their reaction to Michelin's call for changes to the testing regime: none of them responded with a comment.
The testing we did with Michelin – and the research they showed us – certainly offered a convincing case for changing the regulatory test.
Will that happen? It took dieselgate for the emissions testing regime to change to the real driving emissions (RDE) test that will replace lab-based testing later this year, which suggests that it takes something dramatic to convince the authorities to make a change.
In the meantime, the message to anyone looking to purchase tyres – especially on a large-scale, fleet-wide basis – is to look at better-performing tyres. They will prove more expensive, but all the research suggest that they'll be safer throughout their lifetime and, as they last better, won't need to be replaced until the tread is at 1.6mm – which will save on fuel costs in the long term.
They might be just hoops of rubber, but selecting the right tyres, and using them to their legal tread depth, could save fleet operators significant amounts of money.
The claims
At the 1.6mm legal tread limit…
Stopping distances are shorter than for new tyres, by 2.3m.
Rolling resistance is 20% less than for a new tyre, cutting fuel consumption.
Many premium-brand tyres have lost none of their wet braking performance.
Changing to a 3mm tread limit…
Would cause 128m extra tyres to be disposed of each year.
Would cost British drivers an extra £745m.
Isn't supported by data suggesting it would reduce accidents.