Styling upgrade for Peugeot 108
Peugeot's 108 city car has been upgraded for 2020, featuring a new range of colour changes and interior trim enhancements to bring fresh new choices.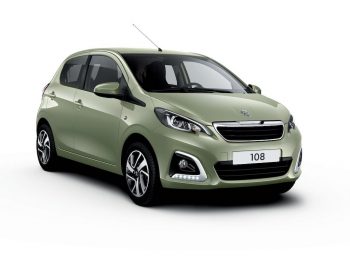 Priced from £12,785, the 108 is now offered with a Smooth Green paintwork option, alongside the existing Diamond White, Zircon Grey, Raven Black and Antelope Red also available throughout the model range. The new Smooth Green option also appears in the choices for the interior ambience colours.
The electric roof option is also now available in a new green shade, fitted as standard on Collection and Top! Collection models, depending on the exterior colour chosen.
The interior now offers White Line Jusa and Green Line Jusa to replace the previous White Square Jusa and Green Square Jusa trim options.
Two new exterior personalisation themes include Green 'Vector' and Grey 'Vector' options, which add graphics around the headlights and door pillars, and replace the previous Brushed Alu Speed and White Speed themes.
Prices for the 108 hatch start from £12,785 for the three door Active with the 72hp 1.0-litre petrol engine and S&S five speed manual transmission. The Top! range now starts from Allure trim with prices for the 108 Top! Allure 1.0-litre S&S five-speed manual starting from £15,540.