Road Test: Vauxhall Grandland X Hybrid4
Vauxhall's potent plug-in hybrid SUV is laser-focused on user-choosers, explains Alex Grant.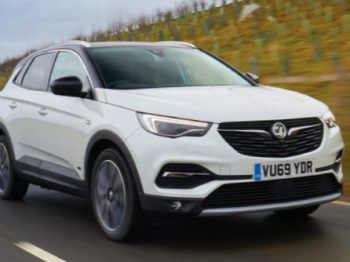 Vauxhall seems to have found a near-centre point in the Venn diagram of automotive must-haves with its newest model; a plug-in hybrid drivetrain in an SUV bodyshell, launching just as company car tax looks set to shift in favour of sub-50g/km models.
So it's hardly surprising that around three-quarters are expected to go to fleets, nor that the UK volume allocation has just been increased to 4,000 units in anticipation of forthcoming demand.
This is familiar-ish territory for Vauxhall. The 2012 Ampera was a different technology but with a similar user experience; 30-35 miles of battery range, and a petrol engine for longer journeys. However, it's much less intrusive here. Plug-in versions of the Grandland X seat
five, lose only under-floor luggage space, and look almost identical to their petrol and diesel counterparts.
There are two plug-ins to choose from. Models badged 'Hybrid' feature a 1.6-litre turbocharged petrol engine, assisted by an electric motor integrated into its eight-speed automatic transmission, which produces a combined 225hp. The 'Hybrid4' system, as tested here, is broadly the same but features a slightly more powerful engine and an additional electric motor at the rear wheels, which takes power up to 300hp. WLTP-derived electric range is similar for both, at around 35 miles. Vauxhall expects a third of drivers to opt for the Hybrid 4, steered mostly by choice list pools, and it's a clever system. Most low-speed driving is done on the rear motor, its single-speed transmission offering EV-like responsiveness and avoiding the frictional losses of the gearbox – so it's the more efficient of the two.
Electric power is available at up to 84mph and, at motorway speeds, the front motor makes use of its multiple gear ratios to maximise efficiency. All of this can happen automatically, though there are modes to conserve the electric range or use the engine to
top it up on the move (albeit with a significant economy penalty). All-wheel drive mode made light work of soup-like muddy tracks, but most drivers will probably use Sport more often. It pulls as aggressively as its 5.9-second 0-62mph time implies, but the over-assisted steering can make the front-end feel a little light under heavy acceleration. An electrified VXR product this is not.
Top-spec versions come in at almost £47,000, but more sensibly specified models make decent sense for fleets. Vauxhall is offering a Business Edition trim priced at £32,390 for the Hybrid and £36,790 for the Hybrid 4, both identical in terms of equipment to the
mid-spec retail-focused trim, but with a reduced P11d price to minimise company car tax payments. Six months' membership of the Polar chargepoint network is included, but it's worth adding £500 to spec the 7.4kW onboard charger. This halves the charging time to just under two hours.
Timing is everything and, besides the much-improved packaging compared to the Ampera, the Grandland X is the right car at the right time. But the centre of the Venn diagram is rapidly becoming a crowded place to be.
The Verdict
The Grandland X is a competitive option timed perfectly to boost Vauxhall's fleet offer. But competition is growing, and it faces big threats even within the PSA stable.
The Lowdown
Key Fleet Model: Grandland X Hybrid 4 Business Edition
Strengths: High spec, low BiK, 7.4kW charging
Weaknesses: Most trims are pricey
Fleet World Star Rating
3.5/5