New Ctrack Executive Dashboard to provide business-critical summary data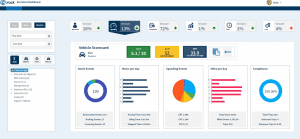 A new Executive Dashboard has been launched by Ctrack to provide both small and large fleet operators with operational insight and business intelligence through their telematics system.
The new tool enables users to monitor key performance metrics such as driver behaviour, fuel efficiency, fleet utilisation and productivity in a single view. High-level fleet performance trends can be presented with a drill-down capability which takes the user in a couple of clicks, to vehicle or driver detail.
The Executive Dashboard has been designed to support small fleets as well the largest enterprises with the capability to display whole fleet data with drill down through division, region or branch to individual vehicle or driver. It can be configured to reflect the organisational structure of any business and there is no limit to the number cost centres or organisational hierarchies.
The business intelligence engine calculates like-for-like comparisons, so organisations can effectively view and analyse multiple metrics at-a-glance to determine where a fleet is performing better or worse. This can include comparisons and driver scoring with peers incorporating all the key metrics of good driving.
John Wisdom, managing director of Ctrack, commented: "Our Executive Dashboard provides high levels of business intelligence and operational insight, so companies can effectively gauge fleet performance, implement continuous improvement initiatives and achieve positive change. We have worked closely with our customers, to understand their priorities and develop a tool that best meets their precise needs."