Nearly half of UK fleets think employees will embrace autonomous cars
New research finds that 43% of UK fleets believe employees will easily accept using autonomous vehicles despite the huge change to driver behaviour that they will create.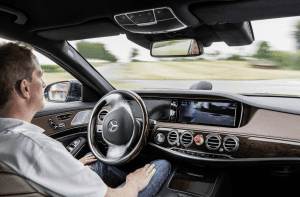 The figures are drawn from Arval's 2016 Corporate Vehicle Observatory Barometer, which also reports that 44% of their European counterparts agree.
Additionally, 38% of UK fleets and 46% of those operating in Europe agree that autonomous cars could mitigate existing road safety issues.
Shaun Sadlier, head of consultancy at Arval, said: "Clearly, autonomous cars represent a huge change in how vehicles are used, and bearing in mind that virtually no fleet managers will have had the change to examine one, we believe that a 43% acceptance rate is quite high.
"It is likely that, if autonomous cars are shown to operate effectively on UK roads in a real-world environment, this figure could rise quickly. Of course, we also expect a core of people who will always want to drive themselves."
Sadlier added: "Fleet awareness of the potential safety benefits of such vehicles is interesting. Again, while 38% is ostensibly quite a low figure bearing in mind that these cars should effectively remove the possibility of a collision, we believe it is actually relatively high at a point in time when fleet familiarity with the technology is still very much in its infancy."
The research also looked in detail at fleet attitudes to a range of emerging car safety equipment, examples of which are starting to become available in company vehicles, even if only on higher value models.
When asked which of five different options they considered essential, 20% named autonomous emergency braking, 11% lane change warning systems, 8% adaptive cruise control, 8% adaptive light control and 6% night vision systems.
Sadlier concluded: "These are currently cutting edge technologies that will initially be fitted to very few fleet cars but it is interesting to note that fleet managers have formulated opinions on which will be the most useful, with autonomous braking very much at the top of the list.
"Within the next few years, this is a feature that we could see added to many more company vehicles as manufacturers respond to research of this kind and the technology becomes more mainstream."