Mazda Skyactiv-X pricing announced
Mazda's fuel and CO2-saving Skyactiv-X engine is to be introduced with the Mazda3, as well as a new Mazda3 saloon and new all-wheel drive option.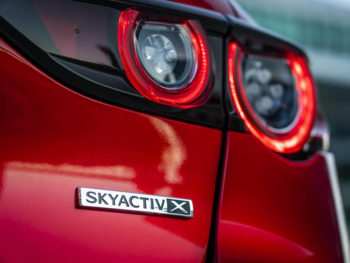 The Skyactiv-X uses diesel-like high compression in a petrol engine, making use of compression ignition and spark ignition (Spark Controlled Compression Ignition – SPCCI – technology) to offer a high torque unit with good fuel economy and low emissions.
The entry point to the Skyactiv-X line up, the £23,555 manual Mazda3 Sport hatch emits 100g/km, while the identically priced Sport saloon emits just 96g/km. Fuel economy is rated at up to 52.3mpg. Across both body styles the Skyactiv-X powered Mazda3 is offered in Sport, Sport Lux, GT Sport and GT Sport Tech trim levels, with a choice of automatic or manual transmission available on all models.
In addition, arriving in Autumn, Mazda is introducing the Mazda3 saloon, powered by either the new 180hp Skyactiv-X or a 116hp Skyactiv-D diesel.
Joining the line-up for the first time since the Mazda 323 AWD, a Mazda3 with four-wheel drive is available with top-spec GT Sport Tech trim and hatch body only.
Exclusive to Skyactiv-X powered cars, GT Sport and GT Sport hatchbacks can be specified with £200 Burgundy leather, while the saloon can be equipped identically priced Stone leather.