Kwik Fit survey highlights serious gaps in road sign knowledge
New research carried out on behalf of Kwik Fit has revealed that the average driver knows only 79% of UK road sign meanings, with one in five road signs a mystery.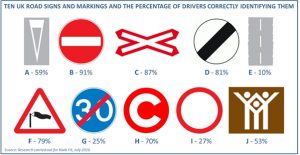 For two in five drivers, not being able to understand a sign or being confused over its meaning has led to problems on the road.
The most common mistakes due to misinterpreting road signs were found to be breaking the speed limit (16%), braking suddenly (15%) and having to slow down, causing traffic to build up (9%).
Perhaps recognising the gaps in their knowledge, the majority of drivers believe that the driving theory and hazard perception tests should be retaken throughout people's motoring lives, with more than half (53%) thinking it should be repeated at least once every twenty years.
When researchers for Kwik Fit tested drivers on some specific UK roads signs and road markings, some significant gaps in their knowledge were revealed.  Only one in ten drivers correctly identified the central white line markings which indicate a hazard ahead.  In direct contrast to their true meaning, the vast majority (66%) believed that this line meant normal road conditions.
Only a quarter (27%) of drivers surveyed knew that a circular white sign with a red border meant, 'all vehicles prohibited expect bicycles being pushed by pedestrians'. 30% of drivers thought it signified a 'red route – no waiting'.
While a white 'C' on a red circle should be familiar to drivers in the capital, one in four Londoners (22%) don't recognise this as signifying a congestion charging zone.  In fact, 6% of Londoners thought it meant 'caution children ahead' with 4% believing it marks a charging point for electric vehicles.
More than a third (34%) of drivers from outside London could not correctly identify the road sign, leaving themselves open to penalty fines.
Signs giving indications of speed caused confusion for a surprising number of drivers. Kwik Fit found that almost one in five drivers (19%) were flummoxed by the meaning of a white circle with a black diagonal bar.  5% thought this meant a 70mph limit applied, 4% thought 60mph applied while 7% thought it meant no speed restrictions, something which doesn't apply on any public road in the UK. The correct meaning is 'national speed limit applies'.
A white 30 on a blue circle with a red diagonal line through it indicates the end of a 30mph minimum speed zone, something that could be identified by just one in four (25%) of drivers.
Two-thirds (68%) of UK adults believe that drivers should have to re-take the driving theory and hazard perception tests, with an average gap of every 15 years. Those who do currently drive would leave a longer period between tests, on average every 16.5 years, while non drivers believe motorists should be retested every 11 years.
Roger Griggs, communications director at Kwik Fit, commented: "The findings show that although many of us think we are good drivers, we are ready to accept that we don't know the meanings of all road signs. Our research showed that some surprising results, and indicated that there are some clear instructions and safety warnings which drivers are not picking up on when out on the road.
"While people can't be expected to voluntarily retake their test, it would be a good idea for even those of us who have been driving a long time to make sure we really do know the correct meaning of road signs and markings."