Make the future
Held in the last week of June, Shell's Make The Future London 2016 festival incorporated a series of exclusive events, including a fleet-focused panel discussion. The session explored topics as diverse as future mobility, alternative fuels and how data can deliver benefits to business. Katie Beck presents an overview of the discussion highlights.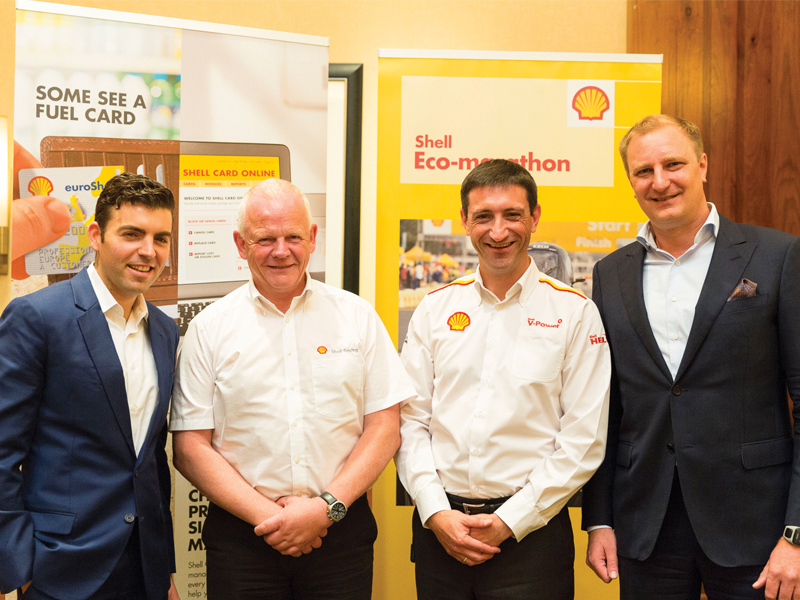 Diversity of fleet portfolio
The challenges of meeting the transport demands of an increasingly urbanised population was identified as a key industry trend; "The younger generation in particular is not demanding the traditional models of transportation," explained Wolfgang Warnecke.
"Very often mixed mobility (cycling, buses), on demand or 'by the mile' services are more popular than vehicle ownership, especially in urban centres. I think the pace of change in the mobility and transport sector is incredible; every second day there is a new development underway aimed at meeting these needs.
"For example, with flying drones – a company in China is using them for personal mobility with test flights underway. So, very soon they could not only be used to transport goods, but people too. These kinds of developments might sound 'space age', but the technology is already a reality."
Warnecke also highlighted the expanding portfolio of fuels as an example of the investment being made by manufacturers; "We are living in an age of huge opportunity; our colleagues on the automotive side are working on a whole range of engine types – 'clean diesels,' efficient petrol engines, hybrids, battery electric vehicles, natural gas, biofuels and synthetic fuels, for example," he said.
Scott McGregor was quick to point out the potential challenges of employees using a number of different transport methods, however. "It is puzzling when you look at the potential diversity in the fuel portfolio and the challenges that could present to a business," he said.
Challenges of 'clean' energy
Access to energy and how to produce affordable, clean power was highlighted as a major barrier to progress, with Warnecke explaining that the environmental impact of electric mobility is often overlooked;
"There are clear benefits with electric vehicles – there are no tailpipe emissions, for example. The big question, however, is how do you produce the energy to store in the battery or to produce the hydrogen?" he said.
Emissions readings do not currently account for recharging of the battery, ignoring the production of the electricity completely. "If you take into account the production of the energy to the turning wheel, the best diesels in class do not look so inefficient in countries like Britain and China, where electricity is mostly produced by fossil fuels," Warnecke said. "In France, however, the battery electric vehicle is around 50% cleaner than the diesel because the majority of the electricity is produced by nuclear, which does not emit CO2."
Warnecke went on to explain that diesel is still the best internal combustion engine available in terms of efficiency.
However, local air quality pollutants are a concern, and treatment methods can be expensive.
"The problem here is that to clean up diesel the engine will need to become very complex, with lots of sensors in place and almost a small chemical plant under the floor to deal with all the processes," he said.
"Very efficient diesel engines are possible and are slowly entering the market, but they will need more servicing and maintenance. There are questions over whether diesel makes sense for small and mid-size engines with the tightening regulations, but there is no question that diesel will continue to be the solution for very large vehicles in the foreseeable future, ideally with some biofuel components to help lower CO2 emissions."
Benefits of telematics
Panellists agreed that while many fleets are aware of the benefits of using telematics, there are still concerns about the real-world relevance of the data generated. "There is no shortage of data available – our systems today can produce a wealth of different data parameters that with investigation and analysis can provide real opportunity for savings," said Scott McGregor.
"I am conscious, however, that how you remove complexity and make the system as simple to use as possible is key. Given the wealth of information and data we now have access to, how can we harness that most effectively for our customers?
It's something we are really going to have to think through as we see greater diversification in the fuel portfolio, the removal of paper, how we manage our own fuel card system… This is a very exciting time with many opportunities."
George de Boer added that more still needs to be done to educate fleets on the wide-ranging business benefits of telematics systems, beyond simple vehicle tracking.
"It's about informing customers about the wider benefits of using telematics, like having a better customer experience, for example or reducing fuel fraud," he said. "We have recently installed our solutions with a fire department. The commander-in-chief can now see where all the vehicles on the fleet are, and before any firemen get into the vehicles they know exactly where they are going using traffic information, with in-depth details such as road works to avoid.
"These are real-world uses for telematics that do not specifically involve cost-saving, and are more business-need or customer-need focused. It's not just about control, it's about improved convenience, too."
"I would suggest that simply changing the name 'telematics' would help," added Eliron Ekstein. "It is difficult to get people excited about what is quite an abstract description.
We need to start thinking of telematics as a data-enabled mobility service.
"A cheap OBD device plugged into the dashboard can read vehicle data very easily, diagnose what the issue is and get biddings from local mechanics to deal with the problem.
That's useful, and offers real opportunities for savings. If we turn our attention to the specific services that are useful to different types of businesses and simplify the packages, we have a better chance of optimising services and making real savings to the bottom line."
Data security concerns
Alongside the perceived issue of managing the generated data, there is still a lingering distrust amongst some users about the 'Big Brother' associations of telematics and tracking devices.
"I really do think there needs to be a culture shift, here," said de Boer. "If we are working in an office, our manager can see what we are doing or when we are going to lunch, so why is it strange that we can see what a driver is doing when he is in the car visiting someone? I really don't see that it is a problem to monitor what employees are doing during working hours. It is all about explaining the processes around data collection and what can be done with settings, for example private mode for trips outside of working hours.
"It's important to help change the collective mindset and the perception of telematics. Incentivising employees can really help – some companies offer bonuses for the most efficient driver at the end of the month so that they directly benefit from cost-savings alongside the company, for example."
Concerns about data security were also highlighted, with Wolfgang Warnecke stating that further clarification about ownership rights and regulation is required. "Most connected modern vehicles have about 60 controllers inside the vehicle, used for processes such as emissions control," he said.
"These controllers process hundreds of pieces of data per second. There have been huge changes in data management, and all these questions about who owns the data really need to be dealt with."
"There are also many questions about who owns the interface on connected cars – the OEMs, the technology company or the customer," added Ekstein. "We are at the beginning stages of dealing with these issues, and it will be very interesting to see how they evolve."
Eco-marathon Europe 2016
Shell's Eco-marathon Europe competition also took place during the Make The Future festival. Now established for over 30 years, the competition challenges student teams from all over the world to build, test and drive ultra-efficient vehicles.
Held at the Queen Elizabeth Olympic Park in London, over 200 student teams from 29 countries competed to see whose vehicle could travel furthest on the least amount of fuel; including petrol, diesel, other liquid fuel made of natural gas, ethanol, hydrogen and electric power.
Winners Lycee Saint-Joseph La Joliverie, from France, broke the CNG (Compressed Natural Gas) record by travelling 2,606.4km using the equivalent of just one litre of fuel in the Prototype category. Also achieving success was Lycee Louis Delage, from France who travelled a distance of 445.7km using the equivalent of a litre of fuel in the petrol-powered UrbanConcept car.
The Make The Future London festival also saw the introduction of the Drivers' World Championship – a head-to-head race against the 2016 UrbanConcept winners from North America, Asia and Europe to find the quickest and most energy-efficient driver. The winning team was Universitas Pendidikan from
Indonesia, and their prize included a week's training with Scuderia Ferrari in Maranello, Italy.
Commenting on the achievements of the competitors, Erik Bonino, Shell UK chairman, said: "Showcasing some of the brightest energy ideas and supporting entrepreneurship is an essential part of the journey to a low-carbon future. Shell is committed to inspiring and supporting the next generation of entrepreneurs as we tackle the world's energy challenges."