London on target to reduce road casualties but concerns remain over motorbike collisions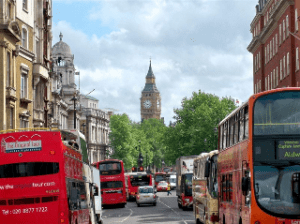 New figures show that road casualties in London continue to fall but more work is needed to tackle an increase in fatal motorbike collisions.
The latest Casualties in Greater London report from Transport for London (TfL) shows that the number of people killed or seriously injured on London's roads fell by 3% in 2015 to the lowest number since records began and by 42% on the 2005-09 baseline against which road safety progress is measured.
The overall number of people killed or seriously injured fell from 2,167 to 2,092, with London on course to have reduced such incidents by 50% by 2020. There were 84 fewer serious injuries (2,040 to 1,956) in 2015 compared to 2014, however there was a 7% rise in fatalities (from 127 to 136). Despite this, overall fatalities have decreased 36% on the 2005-09 baseline.
There were overall trends of improved road safety for most road user groups
Cyclist safety improved significantly in 2015, with fatal and serious injuries involving cyclists falling by 10%, and four fewer cyclist fatalities compared to 2014 (nine fatalities down from 13).
The number of pedestrians killed or seriously injured decreased by 6%, also to the lowest level on record, however there were two more fatalities for this vulnerable user group compared to the previous year (66 up from 64).
Yet the number of motorcyclist fatalities and serious injuries increased, with nine more riders dying in road collisions compared to the previous year (36 up from 27). However the longer-term trend of motorcyclists killed or seriously injured is still down, having fallen by 32% since 2005-09.
Leon Daniels, managing director of surface transport at TfL, said: "We are making good progress in reducing death and serious injury on our roads and meeting our target of a 50% reduction by 2020. However, there remains an enormous amount to do and we are, in particular, deeply concerned about the rise in the number of fatal collisions involving motorcyclists.  We are taking a range of actions to tackle this, including working with the Motorcycle Industry Association, funding for accredited training centres and one-to-one motorcycle commuter training, and improving street design for motorcyclists."
TfL has updated its London Collision Map with the latest road casualty data, which can be found at tfl.gov.uk/corporate/safety-and-security/road-safety/london-collision.