Interview: Duncan Chumley, Free2Move Lease
PSA's contract hire division is being transformed to deliver total mobility solutions, Free2Move Lease managing director, Duncan Chumley, tells Dan Gilkes.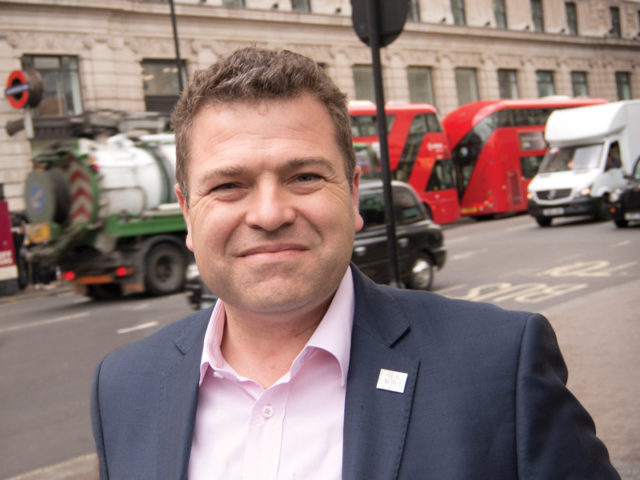 At the start of this year, Peugeot Contract Hire and Citroën Contract Motoring joined forces, to become Free2Move Lease. Given that the two PSA manufacturers now share the same UK head office site in Coventry, there is perhaps little surprise in that, as many of the group's business sectors have been brought together over the last few years to reduce cost and improve efficiency.
However, there is more to the move than a streamlining of back office functions. Free2Move was announced in France last September to bring together all of the PSA Group's mobility solutions under a single banner. This includes car sharing, connected services, fleet sharing and fleet management, as well as leasing and financial solutions.
The UK is spearheading Free2Move Lease in Europe, along with France, Germany and Spain. However PSA has global ambitions for the brand, with the recent launch of Free2Move as a car sharing provider in North America, in partnership with Travelcar.
"It's no longer just about our cars and vans, but about mobility solutions," said UK Free2Move Lease managing director Duncan Chumley. "Before, we were focused on providing a vehicle. What we want to do now, is provide an overall solution."
Bringing Peugeot, Citroën and DS leasing activities into a single business has given Free2Move Lease a fleet of more than 65,000 vehicles in the UK, of which 35% are vans. That puts the company at number seven in the UK leasing league, according to Chumley. "We have B2B and B2C customers and we will have two distinct offers. A lot of our customers are operating one to five vehicles. Our shortest term is currently 18 months, up to four years. However we will offer 12 months to five years if required, following individual discussions. The focus is very much on providing our customers with the best quality of service over all parts of the business."
Existing leasing customers will see little initial change, other than the name of their provider. However the Free2Move business will be expanding rapidly, to offer a far wider range of services going forwards.
As an example, Free2Move has recently launched a car-sharing app for London. This app will be expanded to show all possible transport solutions in the area.
"The fleet sharing element will become an increasingly important part of the business in the future," said Chumley.
"Also pool cars, that can be under-utilised. Companies could rent them to staff at weekends.
"We're talking to our customers about all of our product ranges, from Citroën, Peugeot and DS. We'll be offering a multi-marque solution as well. My target this year is to do about 1,000 non-PSA vehicles."
The company is working to create a fleet management solution, based on telematic data from a PSA box that is being installed on a growing number of its vehicles.
"On our Citroën vans we already have a Teletrac box, but we will move across to a PSA box on all models," said Chumley.
"It's already in new models like the 3008 and high specification DS models and will be available as an option in all of our products by 2019/20. The key benefit this gives is that it provides us with geolocation and fault code information directly from the vehicle's CanBUS network. We will use this to offer our own fleet management solution.
"We recognise that some fleets have other providers, so the data will also be made available to them. We will also have a retro-fit box that can be fitted to non-PSA vehicles, or the manufacturer may have already equipped the vehicle with a box and we can buy the data from them."
Free2Move will deliver a range of compliance services by July, ensuring that customers meet legal requirements with regard to their fleet.
"We will make sure that vehicles are serviced and maintained, so that customers can say with confidence that all of their vehicles are compliant. We could offer driving licence checks and if a company wanted us to take on an Operator's licence then yes, we would, if that delivered what they needed," said Chumley.
Free2Move has been training staff within the Peugeot, Citroën and DS business centre and dealer networks and has taken on new SMR and residual value teams in Coventry.
"We have a fantastic dealer network and we want to enhance that. Our first job this year though is to consolidate the business," said Chumley. "We are going through a year of change."2017/18 ambitions…
Fleet management: The Free2Move fleet management solution will be available to customers with vehicles up to 5-tonnes gross weight. Free2Move has appointed a specialist vehicle manager to look at vehicles above 3.5-tonne gross weight.
"We want to get our fleet management product offered across the board, so we can supply all of our customers with a solution," said Chumley.
Support services: Bringing two major leasing businesses together has provided Free2Move with a strong team of experienced staff.
However, Chumley recognises that the newly-formed company will have to build its infrastructure to support its expansion plans.
"We need to have the back-up services that support the business, to create a multi-marque solution," he said.
Service provider: With car sharing, both private and fleet, connected services and fleet management among a growing portfolio of products and services on offer, Free2Move will unveil a new website in June that will point the way forward.
"We must look at the service that we deliver to our customers, take the key successes of the past and see how we can improve on these going forwards."