Fleet World Fleet: Honda Civic 1.6 i-DTEC EX Manual hatchback
Natalie Middleton finds there's rather a lot of safety kit on our long-term Civic.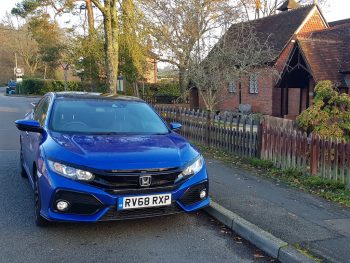 One of the over-riding first – and ongoing – impressions on our Honda Civic has been the sheer wealth of safety equipment on board, thanks to the standard-fit Honda SENSING package of active safety technologies.
Go to reverse out of your drive – or a parking space – and the Cross Traffic Monitor will bleep at you if anybody is about to go by the end of the car, long before you can see or hear them; it'll even show their direction of travel in the reversing camera.
Drive around and if the Civic thinks you're not slowing down enough in time and might hit a car in front, the Forward Collision Warning will bleep and flash at you to warn you.
It also provides blind spot warnings and even tells me off for putting my indicators on ready to pull out the moment a car in the outside lane has gone past me, which makes the Civic panic about an imminent collision.
And the package includes various other safety technologies, either less vocal such as the Traffic Sign Recognition, or which I've not thankfully managed to set off yet, like the Collision Mitigation Braking System.
Of course, none of these are revolutionary in the fleet world per se but you do feel in the Honda that you're backed up by a wide array of very obvious safety tech. Even if life has become a little bit noisier…
P11d/BiK: £24,750 (23%) MPG/CO2: 61.4mpg (WLTP) / 93g/km (NED Correlated) Test MPG: 52mpg