Diesel use to fall over next five years, predict UK fleets
Fleet use of diesel vehicles is likely to fall over the next five years as businesses increasingly migrate to alternative fuel vehicles, new research finds. The research – carried out for Arval's 2016 Corporate Vehicle Observatory Barometer – finds that UK fleets with 40 vehicles or more predict the percentage of diesel cars they operate will reduce from 88% today to 76% within five years.
However, smaller fleets (fewer than 40 cars) believe that their diesel use will fall only slightly to 84% from the current 85% over the same period.
Combining both sets of figures from Arval's 2016 Corporate Vehicle Observatory Barometer shows that, overall, the UK diesel car parc is predicted to fall from 86% today to 81% in 2021.
The research also shows a move amongst fleets to alternative drivetrain technologies. 42% say they are already operating at least one type of these, with a further 31% saying they plan to seriously consider doing so in the next three years.
Looking at fleet manager views of alternative fuels in detail, leading the way are conventional hybrids (34% already implemented and 31% considering), followed by plug-in hybrids (20% implemented, 28% considering) and fully electric (17% implemented, 26% considering).
Arval added that the figures show that the UK is ahead of Europe in real and planned adoption of alternative fuels. The comparable figures are conventional hybrids (21% already implemented and 18% considering), followed by plug-in hybrids (14% implemented, 16% considering) and fully electric (16% implemented, 17% considering).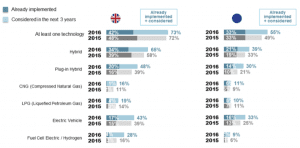 Shaun Sadlier, head of consultancy at Arval, said: "We shouldn't be surprised that with the introduction of more efficient petrol models and the emergence of new vehicle technologies, some businesses and their drivers are moving away from diesel. This shift in larger fleet use of diesel would equate to hundreds of thousands of vehicles a year and a transformation in the composition of the UK company car parc over time.
"The availability of viable new cars and drivetrains is an influencing factor, especially plug-in hybrids, but so is general public and governmental concern over air quality in the UK leading to a range of legislative changes."
He added: "This is not the end of diesel – for many drivers an efficient diesel will continue to provide a practical, efficient and cost effective choice. However, these are very exciting times and we are regularly working on a consultancy basis with many fleets to examine in which circumstances alternative fuels effectively meet their needs."