Data, data everywhere
Richer data from connected cars could radically alter the telematics sector; so is there still a role for the traditional 'black box'? Craig Thomas finds out.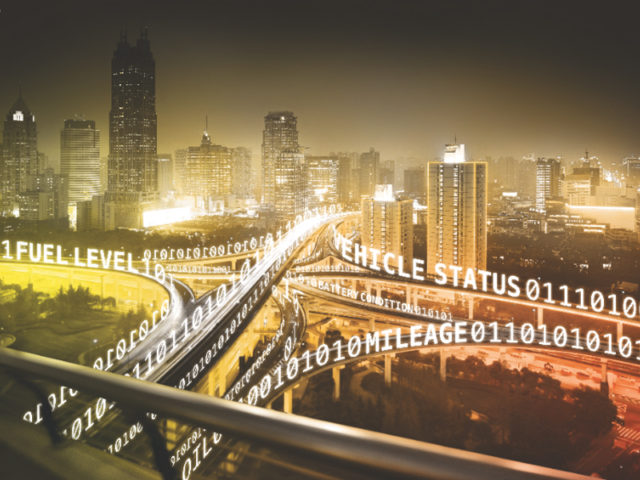 By 2020, there will be 250m connected vehicles on the road globally. Over the two decades beyond that, almost the entire car and van parc will become connected, offering huge opportunities to OEMs to take advantage of the huge amounts of data that they'll be gathering.
But where does this leave aftermarket telematics suppliers? Is there a place for them in this brave new connected world, alongside the car and van manufacturers? Or will they and their black boxes become redundant, consigned to the landfill of car technology history?
The suppliers we spoke to are optimistic, confident in the knowledge that what they've learned over nearly two decades won't be replicated by car companies in a few years.
"Telematics is not about hardware: hardware is just the beginning point of data collection. For the most part it's all about the collection of data," Cletus Nunes, director of sales at Octo Telematics North America told us.
"What drives the value proposition is not that a vehicle rolls off with some telematics – that's critical for sure – but analytics, driving data, crash alerts and crash assessments, determining driver scores, vehicle scores, warranty scores, fuel economy. All this analytics is super-important and taken years to evolve.
"We've analysed over 155bn miles of data and over 400,000 crashes, and we connect with over 90 different partners. You can't just create one or two labs in Silicon Valley to be able to keep up with the entire industry."
And even if carmakers decided tomorrow that telematics was their biggest priority – and, with the focus of electrification and autonomous driving, that's not going to happen – there's all the existing vehicles on the road to consider, as Charlie Rosenberg, who works on strategic business development for connected cars at Masternaut, pointed out.
"Aftermarket telematics hardware will continue to bridge the gap for many years for older vehicles or vehicles without pre-installed telematics. Many vehicle brands are represented in most commercial fleets, so aftermarket telematics Software-as-a-Service (SaaS) platforms are not threatened, but rather strengthened by the growth of pre-installed telematics.
"Established aftermarket telematics players can also integrate data from a range of vehicles from different OEMs, as well as from aftermarket installations of telematics."
Better together?
So the logical next step for OEMs is to partner with an established telematics supplier. This might not necessarily be straightforward, though.
"Strategies and ecosystems may require OEMs and other stakeholders to form partnerships in order to provide a more holistic solution for both drivers and fleet managers," Rhys Harrhy, telematics product manager for ALD Automotive, suggested. "But vehicle manufacturers are fiercely competitive and protective over their market share, so this could present a challenge."
Ownership of data is a major sticking point, as Nunes told us. "It's still an issue between manufacturers and, frankly, everyone else. The insurers want the data and want to dictate the terms, and so does the consumer, and so does the fleet owner. The industry does not want to have to be beholden to the manufacturers, who will dictate the terms of the data. And let's remember that the manufacturers have a long history of having data and being very cautious about sharing it, because of the liability that that may present."
Telematics companies can carve a niche for themselves, however, as Sean Morris, automotive business unit director for TrakM8, explained.
"We're trying to encourage the OEMs to work with us so we can get to the same end goal. Ultimately what we would want to do is be the piece in the middle, the piece that can take the different protocols into our system, aggregate that and push it back out to our customers in a single language.
"The OEMs don't want to play with each other, because they feel they're giving secrets away, so the aftermarket companies might become a useful ally to them, so they don't have to share their information with rivals, but they can share it with us, knowing that we won't share it back to their competitors."
"Connectivity is top of the agenda for vehicle manufacturers as this will ultimately be the enabler for the highly coveted autonomous vehicle race that all manufacturers are invested in," said Masternaut's Rosenberg. "This trend ties in with the needs of fleet operators: they need to have access to insightful data to help them run their fleet more efficiently, safer, at a lower cost and more sustainably. There is absolutely a role for aftermarket telematics. Customers want to select their platform of choice and purchase hardware by the easiest method available to them.
"The amount of data we run through our platform every second is similar to what the biggest banks process. We have over 100,000 active users on our platform, with individual customers handling fleets of over 1,000 vehicles and over 5,000 locations at any given point in time. We handle sensitive topics like data security and integrate with our customers' IT systems. We run our own data centres, maintained to highest EU standards, and geographically redundant to ensure seamless disaster recovery. That is not a business OEMs will want to get too deep into."
Beyond data
It is specialist services such as these that aftermarket suppliers can continue to offer fleet users. "Open APIs can integrate with back office solutions, ranging from software solutions for route optimisation, order management systems, CRM systems, white-collar fleet or company cars – or it could be software solutions that leasing companies are using for asset management," George de Boer, leader of connected car initiatives for TomTom, said.
Nunes added: "Integration into back office systems requires technical expertise and experience. But you have to build strategies, business cases, real value, an approval process: partners who can help do that are critical for the entire process. I don't see anytime soon the manufacturers as being able to provide that level of experience and guidance."
The aftermarket is confident that black boxes are going nowhere in the next few years, as Chris Miller, CEO of ABAX explained – as long as they are careful to adapt to a changing market and the needs of drivers. "I think if we look at a complete shutdown of the aftermarket and move towards OEMs, you're probably looking at 20-25 years further down the line. There's still very much an industry for the black box at the moment to move into. With the ability to offer multiple services that connect that to vehicle telematics, the market can go anywhere.
"So the person we now need to look at, as an aftermarket company, isn't necessarily the fleet manager and how we help him: we have to look at how we help the people in the vehicles in their everyday life, that we can connect back through telematics."
Carmakers might currently be making huge strides in the technological capabilities of their vehicles, but they can only do so much. Connected and autonomous vehicles will continue to be their priority in the coming years, so the use of the data might take a back seat.
The aftermarket suppliers are sufficiently experienced and astute to understand this, recognising that it offers hope for not only their continued survival, but even for a chance to carve a profitable niche out for themselves.
Data might be king, but aftermarket telematics companies could still be the power behind the throne in the decades to come.