Congestion could be cut by workplace parking levies and other council schemes
Councils should be able to implement schemes such as workplace charging levies and benefit from lessons learned in government public sector fleet initiatives in order to cut congestion, according to a new report.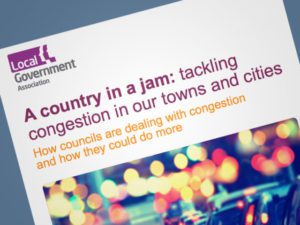 Urging the government to work with councils to tackle congestion as it reveals the extent of the country's crisis, the report by the Local Government Association (LGA) forecasts that congestion will cost the economy £300bn a year by 2030 – a tenfold increase of the current costs of £30.8bn a year – while also threatening our environment and the quality of our air.
Key tenets of the LGA report include providing councils with legislative powers to encourage behaviour change – including workplace parking levies – and expanding powers to enforce moving traffic offences to councils outside London too so they can target notoriously congested junctions or stretches of road where safety concerns have been raised.
The report also says the government's Total Transport initiative has the potential to significantly reduce the amount of journeys taken by the public sector fleet and that lessons learned should be shared as soon as possible. It added that the government should ensure all parts of the public sector are encouraged and able to play a full role in local total transport initiatives and consider ways in which good practice can be spread across the sector.
According to the LGA, all local authorities should be given a wider range of powers to improve air quality, including Clean Air Zones.
Other measures called for include providing councils with long-term funding certainty for local roads maintenance – as enjoyed by Highways England and Network Rail – to tackle the £12bn roads repair backlog and congestion faced on local roads.
Cllr Judith Blake, LGA Transport spokesperson, said: "When the average motorist is spending a working week every year sat in traffic on major roads, and losing almost a £1,000 in the process, it's clear that councils need to be able to do more to tackle this growing problem.
"Councils are working hard to combat traffic and congestion. But they need long-term consistent funding to invest in local roads and need greater powers to solve the problem and introduce attractive alternatives to car journeys, such as through public transport, walking and cycling.
"This will help those that need to use the roads as well as those that have to live with the consequences of congestion."
For more of the latest industry news, click here.
congestioncouncilLGALocal Government Associationschemesworkplace charging