BT Fleet: Better connected
Positioned within a diverse portfolio, with its own fleet as a customer and the EE mobile network, BT Fleet has all the tools to meet the challenges of today's – and tomorrow's – fleet management. Alex Grant finds out more.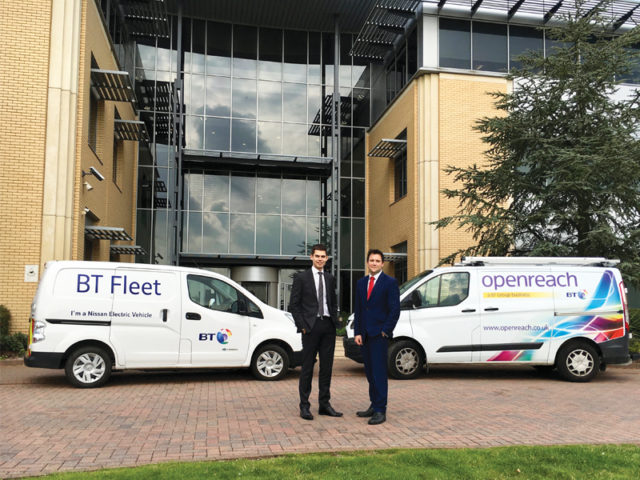 BT Fleet finance director Richard Guest (left) with managing director Henry Brace (right).
BT Group is perhaps a company few appreciate the true breadth and scale of. A business spanning not only the telecommunications business – now including the EE mobile network –  but also a full suite of logistics, supply chain, and security businesses, which deliver a one stop shop for field engineering solutions.
It's the Ventures arm into which BT Fleet, its fleet management solution, is now positioned. Recently relocated from Coventry to a new site near Solihull, shared with EE, it's a sign that the company is looking to maximise the opportunities that the portfolio presents. And there are some interesting synergies to be found.
Henry Brace took over as managing director earlier this year, his previous roles as chief operating officer and finance director, the latter now filled by Richard Guest, and business is. In the last 12 months, it's extended relationships with big clients, and added large newcomers to its portfolio. Its eight-year average retention rate is something Brace puts down to customer service, and there's more to come.
"About 18 months ago we were organised functionally, which gave us a great degree of experience and expertise in the products we sell, but our customers found we weren't as attuned to their needs as they wanted us to be and we wanted to be. Now we've organised into hubs aligned to customers – they have names and faces they recognise, who are experts in their business and able to offer a greater degree of customer service," he explains.
"We've expanded the remit of Ian Martin, our marketing director, to focus on strategy and transformation, and historically we had our sales director responsible for customer account management, but that's split now. So our new sales director, Andrew Goodwin, focuses on new business, we have a customer account director, Cheryl Feely-Jones, who really is focused on our existing customers and we have a new bid and governance director, Paul Browne. The emphasis is on customer service, and that's starting to bear fruit."
Business is varied. BT Fleet provides a pick-and-choose fleet management, SMR and funding portfolio to its customers, which include Openreach, the AA, E.ON, Post Office, Network Rail, Environment Agency and South West Water; covering almost 120,000 vehicles. The aim, increasingly, is to offer customers whichever components they need, but to be a one-stop-shop for those who want it. Its expanding network of 65 garages is also seen as a core part of the proposition, and a multi-million pound project is underway to maximise throughput from its workshops.
This has meant recruiting 100 new staff this year, split evenly between technicians and apprentices, enabling 10% of sites to open 24 hours a day, five days a week. It's adding HGV facilities, and technicians are being trained to encounter an ever-broader fleet, giving live updates via a new tablet-based workshop system. Going digital means there's a seamless handover when work can't be undertaken in-house.
BT Openreach has plenty of benefits. With a fleet including a specialist equipment, technicians are used to unusual machinery, and Guest says that's helped attract customers: "Our garages can handle not only different manufacturers, they're comfortable looking after things with strange bits of plant on the back of them. That's as important to our customers as the vehicle itself."
That doesn't only benefit the workshops. BT Fleet is managing the ongoing replacement of 8,500 BT Openreach vehicles; experience it's already been able to pass on. From the intricacies of buying decisions for the vehicles and logistics of switching engineers into them, means it knows what its customers are going through, first hand.
"We have a huge presence in cash in transit utilities," Brace explains. "Every minute they're not on the road really damages their operation, and we understand that because that's what Openreach is about. Because of that mission critical nature they are especially focused on health and safety.
"[Health and safety is] a big part of our core values, we really believe in it, but it's also a differentiator in the marketplace. We nurse carefully our accreditations, but we're not resting on our laurels, we're now a member of RoSPA, we've been a member of Van Excellence and are embarking on Truck Excellence as the FTA moves in that direction."
The wider BT Group plays a role; Brace sees the acquisition of EE's high-speed 4G data network as a particular asset for a business which is, by its nature, mobile.
But it isn't only networking in the electronic sense that's helping customers. The company holds annual events at the BT Tower in London to enable customers to share ideas, and that's backed by regular customer clubs for ongoing discussions. It's proved popular offering the opportunity for customers to collaborate on solutions and find out how BT Fleet is lobbying on the issues that affect them.
"If you put a lot of customers together and you're not delighting them it can be a destructive thing to do," says Brace. "But  we're glad that we did it, because these events are now being run by customers. They're asking each other what they want, and we're helping to work with them."
Perhaps unsurprisingly, technology is high on the agenda, and customers are wanting apps. Brace says the company's first will be a daily defect check with links to its workshops for easier bookings and accident management.
"It will give a much more mobile and interactive experience which is what you would expect from a company like BT which has EE on its side."
Customers, focused
Produced with the AA, BT Fleet's 2016 Operational Fleet Insight report surveyed UK fleet managers and drivers on the developments set to change their operations…
51% of fleet managers are using telematics, though 67% said they would benefit from usage advice.
55% of fleet managers surveyed feel positive about Brexit.
8% of respondents' fleets are hybrid or electric vehicles, expected to be 30% in 10 years.
60% said ULEZs will have a strong effect on their business.
21% of drivers feel threatened by autonomous vehicles, which 41% of managers expect to have on fleet within 10 years.
For more exclusive features, click here.