All-new challenges and vehicle categories for MPG Marathon 2016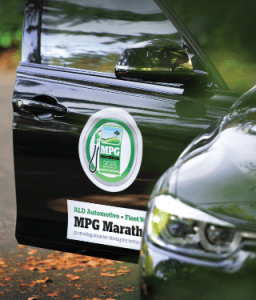 This year, the MPG Marathon has undergone the most exciting shift in its history, with a raft of new categories and competitions to reflect the ever wider range of vehicles and technologies available, and the huge increase in consumer and fleet interest in real world fuel economy.
The MPG Marathon is an annual two-day driving event that aims to demonstrate the difference a driver can to a vehicle's real-world fuel economy by utilising basic economy driving techniques. The event will take place on 18-19 October at Heythrop Park, over a distance of approximately 370 miles. Competitors must visit a number of fixed locations within a certain period of time to ensure the route is completed accurately and safely.
Alongside more traditional fleet categories, including 'Small Car Eco Champion' and 'Most Efficient MPV'; two and three-wheel vehicles including motorcycles, scooters and three-wheelers are now invited to enter for the first time. There is also an exciting new category for exotic, prototype or highly-specced vehicles called 'Garage 56', named after the technological showcase at the Le Mans 24-hour Race, which is sure to generate a lot of media interest.
Teams are also encouraged to enter under the newly launched 'Britain's most Frugal Fleet' category. A minimum of three cars of the same type with the same engine and trim level can be entered as a group, with MPG across all entries averaged out to give a winning real world figure.
The MPG Marathon 2016 categories are:
Cars
Small Car Eco Champion
Most Fuel-Efficient Family Car
Four-Wheel Drive
Load Lugging Economy Champion
Parsimonious Performance Car
Luxury Efficiency Champion
Top Down, Not Topped Up, Winner
Most-efficient MPV
Britain's Fuel-Saving Pickup Champion
Efficient Hybrid Hero
Electric Low Energy Winner
MPG Marathon Garage 56
Britain's Most Frugal Fleet
MPG Marathon Most Economical Carmaker
Vans
Light vans and car-derived vans
Small vans
Medium vans
Large Vans
Motorcycles
Motorcycles, scooters and three-wheelers.
For further details about categories, visit: www.mpgmarathon.co.uk
Commenting on the updated categories for 2016, event organiser Jerry Ramsdale said: "As always there are overall winners, who will no doubt achieve remarkable, headline grabbing fuel economy, but now there are challenges for all types of other vehicles too, allowing manufacturers to put in entrants which, while they might not win the overall award, could still win one of the sub categories and create lots of PR opportunities and interesting stories through traditional print, online and social media outlets.
"I'm really excited about the potential for these new categories, and can't wait to see what our competitors come up with! I am certain it will give this already popular and well-attended event a further 'shot in the arm', and make 2016 our best MPG Marathon to date."
For further information about MPG Marathon 2016, please visit www.mpgmarathon.co.uk or call the office on 01727 739160.