Access to single market critical to continued UK car market growth, says SMMT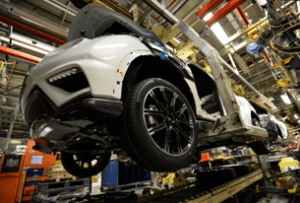 The success of the UK car market has been due to unrestricted access to the single market, according to the Society of Motor Manufacturers and Traders (SMMT) as it reports record turnover.
New figures released by the SMMT showed that UK automotive manufacturing turned over a record £71.6bn last year – up 7.3% on 2014.
Sector jobs increased by 17,000, with 814,000 people now employed in the industry.
And vehicle production was up 5.2% to 1.7 million units, yet environmental impact reduced with waste to landfill down 24.2%. So far this year, car manufacturing output is already up more than 10%.
The SMMT added that access to the single market and EU-negotiated international trade deals, the ability to recruit talent internationally and influence new standards have all helped make the UK automotive industry one of the world's most competitive. This has helped attract billions of pounds in investment in recent years, delivering record productivity, job creation and growth.
Commenting on the figures, Mike Hawes, SMMT chief executive, warned the UK government of the repercussions of not keeping the UK open for business.
He commented: "Our growth depends on certainty and continued open and reciprocal access to the 100-plus markets with which the UK automotive industry so successfully trades. This is not just finished cars but components, technologies and the wider automotive value chain. Any risks and uncertainty to these fundamental benefits need to be addressed head on by UK government."