Road Test: BMW X5 sDrive25d M Sport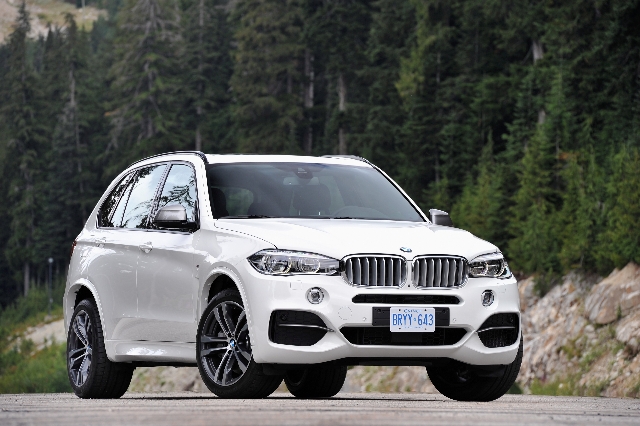 The new entry-level drivetrain is a good fit in the X5, says Alex Grant.
Sector: Large SUV Price: £46,875 Fuel: 49.6mpg CO2: 151g/km
With its first-ever four-cylinder diesel engine and two-wheel drive, BMW has brought its largest SUV in line the smaller X1 and X3. It's made the X5 sDrive25d the lightest, most fuel-efficient and most affordable car in this class.
You could argue that affordability is a loose term when applied to a luxury SUV, but the figures are impressive. At just under two tonnes, this is almost 10% lighter than the first-generation X5 3.0d, yet its engine produces the same power and while returning up to 50.4mpg.
Though it's likely that rivals will follow suit, its four-cylinders and two-wheel drive make the X5 unique in this segment. The Audi Q7, Porsche Cayenne and Range Rover Sport are all still powered by six-cylinder engines and four-wheel drive, the Lexus RX is a petrol hybrid and, though Mercedes-Benz has a four-cylinder M-Class, it's not available with two-wheel drive.
It also gives the X5 a price advantage. Only the ageing Q7 comes in cheaper, but with a 40g/km disadvantage on CO2 emissions and 16 fewer miles to each gallon of diesel that's a head start that quickly erodes.
In reality, BMW expects the xDrive30d with its six-cylinder engine and four-wheel drive to remain as the biggest seller – and it's no less impressive considering it now returns 47.9mpg – but there's a price difference of almost £6,000 between the two drivetrains. Unless you need the extra pulling power, or you're worried about the quizzical looks when it struggles with the UK's occasional snowfall, surely the big-seller is a luxury most people can live without?
The 25d engine certainly isn't inadequate either. This is the same 1995cc diesel used in various states of tune as the 18d, 20d and 25d across most of the range. Though it might seem small in a car of this size, it produces 218bhp and can haul the X5 to 62mph in 8.2 seconds, which is entirely respectable.
There's no loss of refinement inside, either. The X5 is so well sound-deadened that all except the most heavily laden noises are suppressed and, despite the gearbox's efficiency-minded hesitancy to downshift, the engine doesn't struggle to pull even a fully-loaded cabin up to motorway speeds. Once there, it'll return over 40mpg without much effort to drive efficiently.
Plus the X5 is a very flexible carrier of people and things. There's ample front and rear passenger space, a huge boot accessed through a split tailgate and third-row seating can be added for £1,410. These are large enough for all but the tallest adults, helped by the sliding middle row, while still leaving a usable luggage space behind. All it lacks is a storage space for the load cover.
The M Sport trim carries some hefty additional costs though. It's £3,935 more than the basic SE, and with its sports bodykit and interior add-ons, 19-inch split-spoke wheels and Sport Automatic gearbox, CO2 emissions are 2g/km, and thus one BiK band, higher. That's enough to add a few hundred pounds to a company car driver's tax liability each year, not that this is a dealbreaker in this segment.
There's no questioning the appeal of a new entry-point to the range, particularly in a segment which has such a large take-up in fleet. Drivers may be expected to default to the familiar 30d, but arguably there's not much need to do so.
Verdict:
BMW has been conservative in its estimates for the X5, but this does present the opportunity to upsize from a smaller SUV or 5 Series, or perhaps trim running costs when replacing an xDrive30d. For a large percentage of UK X5 drivers, this really is more than enough.