Road Test: Honda CR-V EX 2.2 i-DTEC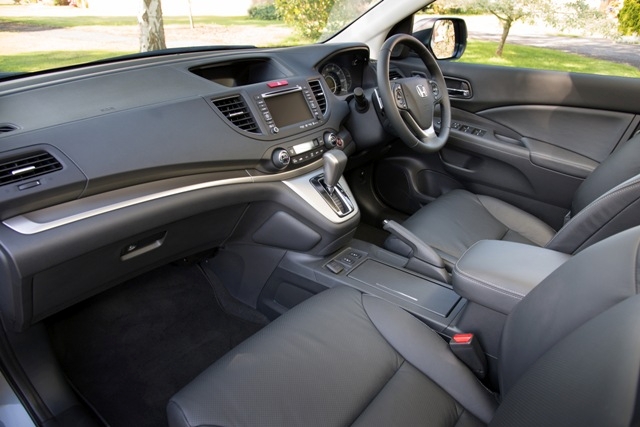 There's a small diesel on the way, but four-wheel drive remains important to the CR-V, says Alex Grant.
Sector: Crossover Price: £30,995 (Feb 2012) Fuel: 48.7mpg CO2: 154g/km
Demand for four-wheel drive vehicles is as weather-dependent as barbecues, de-icer and umbrellas. So, for once, during a seven-day stint with the Honda CR-V I was able to subject it to some of the most severe conditions the UK has had this year. Dealing with snow, ice, sideways rain and floods, it couldn't have been better timed.
Made in Swindon for as long as it's been on sale in the UK, the CR-V has been a popular part of Honda's line-up and an early part of the now popular crossover generation. This fourth-generation version has gone a step further, with specific versions for America, Asia and Europe and, at last, a downsized diesel with front-wheel drive, which launches in September with its sights set on user-chooser sales. Targeting best-in-class CO2 emisisons means it will be aiming for less than the 119g/km Nissan Qashqai and Mazda CX-5.
The big difference between this and the Civic, though, is that CR-V buyers aren't expected to neglect the 2.2 i-DTEC tested here. Its extra power, torque and four-wheel drive remains an important selling point, with the car frequently being used for towing and light off-roading, as well as in first-response ambulance fleets.
But this feels very much at the car end of the crossover spectrum. The engine is smooth and quiet, there's very little body roll and both the steering and gearbox feel positive, mechanical and car-like. Despite the bulky appearance it's also surprisingly compact, slotting into small car parks without distance sensors screaming from all sides.
Inside, there's no shortage of space. The boot is large enough to swallow a third row of seats, while back seat passengers are offered enormous head and leg room and a panoramic roof that makes it feel even less claustrophobic. For larger loads, the rear seats drop flat with a single tug on the handle at the seat base, and clip upright again without needing both hands to lift them out of the way.
Most importantly, though, it showed itself to be more than capable of shrugging off the worst of the British weather. Even on all-weather tyres, the CR-V's new and more efficient electronically-controlled four-wheel drive system found grip in deep snow, and was happy to wade through flooded roads without any fuss.
With fuel economy settling in the low-40s to the gallon, residuals at 39% according to CAP and reliability likely to be on par with Honda's excellent records, the CR-V shapes up well. It's muscular, modern, spacious and seems fit for the worst that family life in the UK can throw at it. So unlike some, this really needn't be a weather-dependent choice.
Verdict:
Well-built, efficient, spacious and upmarket, the CR-V has all the makings of a fantastic family car, and they're all qualities that will translate well into the two-wheel drive version later this year. Those who need the extra traction of four-wheel drive won't find the larger 2.2 an inordinately expensive way to get around.